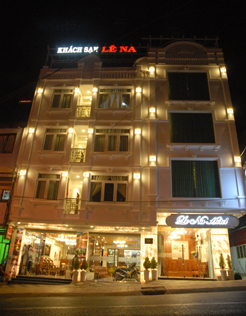 Welcome to Lê Na Hotel !
Hotel Le Na is located in the north of Da Lat City, near Domaine de Marie Church, geographical location near shopping and downtown area of Da Lat (The Dalat Market 500m).

Hotel Le Na hotel is a 2 star went into operation late February 2015.

With 30 guest rooms with luxurious furnishings (all of the rooms are arranged tables and chairs, beds, wardrobes, ceilings and natural wood floors premium), fully furnished, warmly decorated, elegant .

Come to the Hotel Le Na you will really feel comfortable, convenient and satisfied by the professionalism and friendliness of all the staff!

Hotel area has skylights in ensuring all rooms have windows, airy space.

Come to the Hotel Le Na you will enjoy a space right at the house of his beloved.
HOTEL DOES NOT SELL ROOM ON ALL OTA CHANNEL (EXPEDIA, AGODA, CTRIP, TRIP, KLOOK,…) PLEASE NOTE